The beaches in Alonissos are amongst the clearest and cleanest beaches in the world, making this area a very safe and satisfying island for swimming. The beaches are mainly pebbles/rocks with a few exceptions! Below are the main beaches on the island. There are many smaller ones that are not as easy to get to but equally beautiful. Making the effort to go to these remote beaches you will find you may be the only ones there… even in the middle of August!
Starting from the northwest and traveling south around the coast and extending southeast to the northeast the beaches in order are: Megali Ammos, Tsoukalia, Gialia, Vrisitsa, Mikros Mourtias, Megalos Mourtias, Vithisma, Marpounta, Patitiri, Roussoum, Votsi, Milia, Chrissi Milia, Kokkinokastro, Tzortzi Gialos, Leftos Gialos, Glyfa and Agios Dimitrios.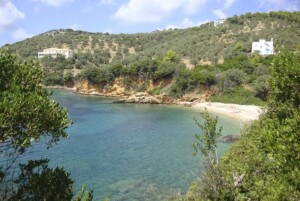 Megali Ammos: The name translates to "Big Sand". The beach however is neither sandy nor big! It's just the name of the region which has wild, natural beauty. Ideal for nature lovers who like virgin nature and rough beauty as it's not very busy. Megali Ammos is approximately 5 km from Patitiri but the road is unpaved and rough. You can get there by jeep or motorbike. No amenities. Sunbeds available.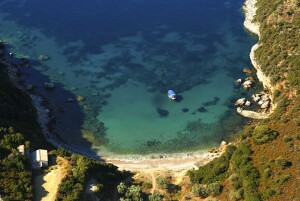 Mikros Mourtias: A small beach with sand and pebbles which is reached by car or motorbike by the road that is just passed the cemetery in the old village. Mikros Mourtias was used until the mid '70's as the main port for the villagers with boat trips to Skopelos daily. There are no amenities. Very peaceful so don't be surprised if you run into nude bathers!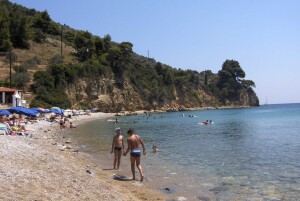 Megalos Mourtias: One of the nicest beaches on Alonissos and almost always calm as it's sheltered from the winds. A very nice pebble beach with crystal clear blue-green waters. There are two tavernas here where you can enjoy lunch or drinks and umbrellas with sunbeds. A very popular and populated beach because of its beauty, calm waters and nearness to the old village and Patitiri.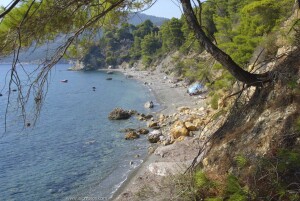 Vithisma: A very nice semi-sandy beach located between Megalos Mourtias and Marpounta. It's very difficult to find as the footpath is steep, overgrown with shrubs and surrounded by cliffs. The easiest way to get there is by boat. Always quiet and peaceful with crystal clear waters, dark sand and colourful shingles. There are no tavernas or bars. Because of its difficulty to find, it is the unofficial nudist beach on Alonissos.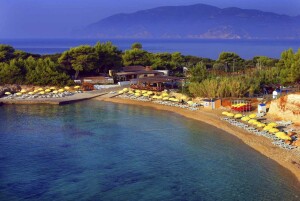 Marpounta: Located 3km from Patitiri, Marpounta is the southernmost point of the island. There are 2 beautiful beaches here with pebbles. There is a resort here by the same name and therefore the beaches are organized with umbrellas and sunbeds.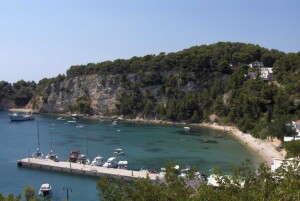 Patitiri Beach: Very popular and also called the town beach. Off to the end of the port with small pebbles, it's very populated as you can take time off from sitting in the cafes to take a swim!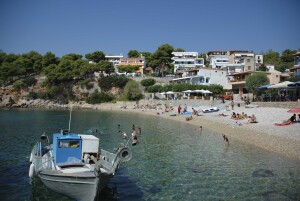 Roussoum: A very popular shingle beach mostly because it's near Patitiri. There are tavernas and cafes here along with umbrellas and sunbeds, so you can spend the whole day here. Within walking distance from most accommodations and the nearest beach to the hotel. Sunbeds and umbrellas available.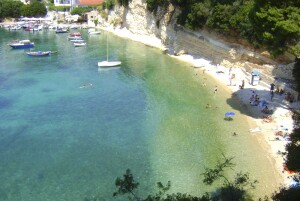 Votsi: Just one kilometer from Patitiri, Votsi Beach is lovely little bay surrounded trees that reach to the crystalline waters. The little shingle beach has room for only a few visitors and is accessible by stone steps descending from the main road of Votsi port. Directly opposite the beach is a picturesque charming tiny harbour with fishing boats mooring there. There is a taverna.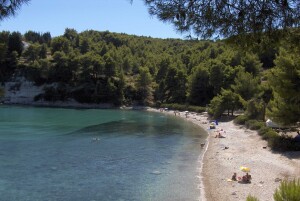 Milia: Milia Beach is about 2 km from Patitiri by car or motorbike. A lovely beach with both pebbles and sand and emerald waters, it is at the heart of bay surrounded by trees and unspoiled natural beauty. Very peaceful and calm. One taverna. Sunbeds and umbrellas available.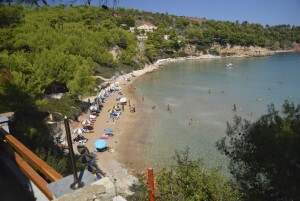 Chrissi Milia: Very popular especially for children and non-swimmers as it is a long sandy beach with shallow water and a gentle decline into deeper water. The sand is golden and particularly fine giving it its name – Chrissi meaning golden. There is a taverna standing on a hill overlooking the beach and a small snack bar here as well. 5 km from Patitiri.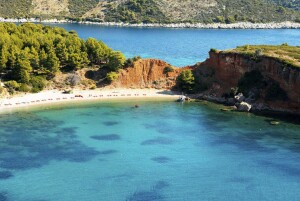 Kokkinokastro: The name means "Red Castle" and it is evident by the red soil that is on the rocks of this area. Opposite the beach there is a small islet which has abrupt steep sides and where ancient tools were found. The ancient city of "Ikos" is said to have been here and there is a remnant of an ancient wall on its shore. The beach is pebble and sand mixture and doesn't have a taverna or café. You can reach Kokkinokastro by car or motorbike in 20 minutes – approximately 6.5 kilometers from Patitiri. Sunbeds and umbrellas available plus a beach bar.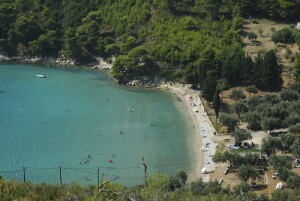 Tzortzi Gialos: Also very popular with children as it is a shallow beach with a gentle decline into deeper waters. The beach is pebble with sand in the water ideal also for amateur swimmers. There is a lovely little taverna here also and only 7 km from Patitiri.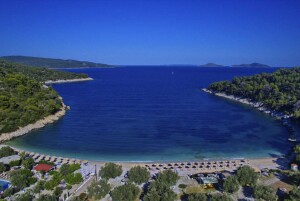 Leftos Gialos: A white pebble beach with clear turquoise water just 7.5 km from Patitiri. A lovely beach with pine trees reaching down to the sea. There are two tavernas here – each also has a beach bar (one has a pool too) which operate until late into the night making the beach popular for those that like late afternoon swimming. Sunbeds and umbrellas available.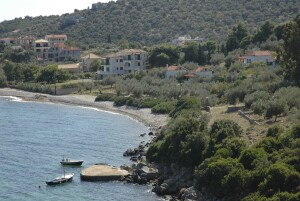 Glyfa: The nearest beach to Steni Vala. A quiet beach, 15 km from Patitiri with pebbles and lush green scenery. There are no amenities but Steni Vala is only a 10 minute walk away.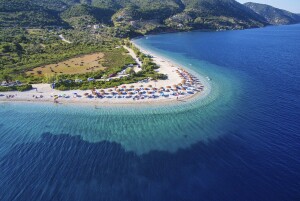 Agios Dimitrios: Considered as the best beach on Alonnisos. The beach is horseshoe-shaped with fine pebbles and turquoise/blue water. Agios Dimitrios is quite a big beach and the furthest to be found from Patitiri taking about 1 hour 15 minutes by car-approximately 18 km. There is a small taverna that also has simple fare for lunch and also a beach bar. Sunbeds and umbrellas available.